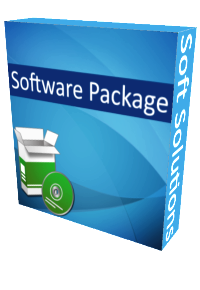 Delhi, India -- Soft Solutions, a software company based in Delhi, India has launched a new software - PDF to Image Converter for the conversion of PDF documents into image files.
PDF to Image Converter is a file conversion software that converts a PDF file to all major image formats such as JPG, JPEG, PNG, BMP, TIF, TIFF and GIF.
PDF files always have a restriction that it needs a PDF reader software to open the file. While an image file can be opened by any browser irrespective or the operating system or browser version. Hence, it is recommended to use an image file format when sharing a file.
Additionally, PDF files also have a restriction that these files are only readable and cannot be edited. When a PDF file is converted to an image file, you can edit the image file in any image editing software and save it. When a PDF file is converted to an image file using the PDF to Image Converter software, it retains the original format and looks exactly the same as the original PDF document.
The software also provides several options when converting the PDF to an image file such as the number of colors, resolution and output path for the converted file. The user can decide the desired resolution of the image and the color depth of it like black and white or colored. The black and white image is smaller in size than its colored counterpart but contains only two basic colors: black and white. It is most suited for scanned documents, books, receipts, bills etc. when the colors are black and white and with the gray shade.
If the PDF has multiple pages, which is very common, it can be converted into a multi-page TIF file so that one can see all pages of the PDF in a single multi-page TIF image file, instead of going through different files each having a single page of PDF.
PDF to Image Converter is available at http://products.softsolutionslimited.com/pdf2img/index.htm
About Soft Solutions:
Soft Solutions is a software company based in Delhi, India. It specializes in software and services related to document imaging, image processing, Optical Character Recognition (OCR), file security, digital watermarking, data compression (video compression, image compression), graphics, file formats, news services and other related domains. It was founded in 2010 with a mission to provide high quality software and services.
Contact:
Soft Solutions
78 Surya Niketan,
Vikas Marg Extension,
Delhi - 110092, India
Phone: (+91) - 9810554230